As promised, we are featuring this year's winning businesses for REV on the blog!
Part of the reason we are so passionate about this event it because we believe a community is only as great as it's small businesses. We also know that to find good businesses you don't have to go far, which is why we've started REV.
This blog features The Buttered Bun, just one of the great businesses right in our backyard.
Describe your business in two sentences
We are a small town bakery offering a variety of freshly baked (and allergen-friendly, pre-packaged) goods, lunch options and locally-made gift items (a small business proudly supporting other local small businesses), and taking pride in giving back to the community.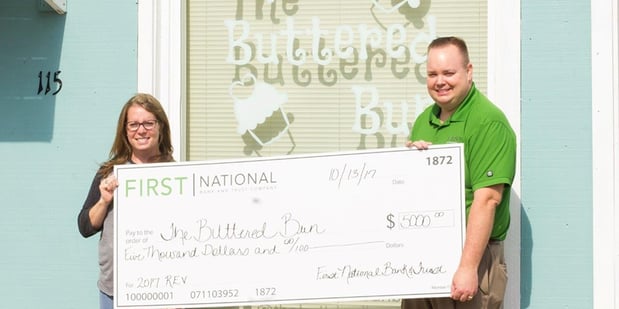 What products and services you offer?
We offer lunch specials with a diverse menu daily and weekly. We also provide a small gift section with locally made items and also includes other fun items for purchase. Additionally, we have a variety of unique snacks and beverages that fulfill many allergen-friendly options not offered elsewhere locally.
What are your mission and goals?
Our mission is to fill gaps in food and gift options not currently available, while giving back to our local communities when able.
How was your experience at REV?
It was a great experience. It really made me evaluate our business - where we are at with it currently, but also where we would like to be in the future.
What will you do with the prize money?
Our top priority is a new oven!
Anything else you'd like to add?
I'd like to thank First National Bank for believing in us and what we are trying to accomplish. It's rewarding to know that we have so much support and that we can all grow together through our efforts.
For more information about The Buttered Bun, visit them on Facebook!
P.S. REV is going to be an annual event, so give a little nudge to your neighbor (who's a business owner) and encourage them to apply next year! We will post about open applications on our website, Facebook and Twitter.