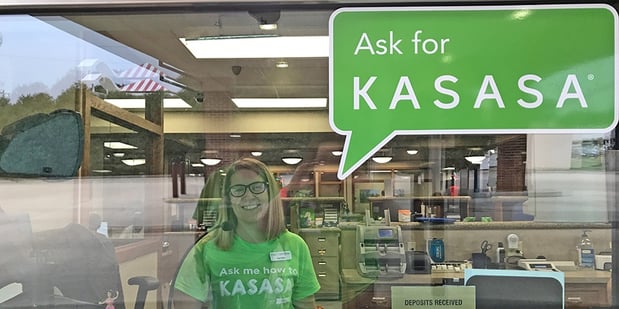 What is a Kasasa Cash Back® checking account?
Sometimes, there's nothing better than more money in your bank account. With Kasasa Cash Back, you get just that. Kasasa Cash Back is free checking that pays you back for banking basics every time you shop.
What can Kasasa Cash Back do for you?
Spend money to make money! Kasasa Cash Back is free checking that pays you back. With 3.00% cash back on debit purchases (on up to $200 in purchases per month), you can earn up to $72 in cash back per year! Account holders not only benefit from cash back, but also from things such as refunds on ATM fees nationwide, free online banking and no monthly service fees. Find a full list of account benefits here.
How do I open a Kasasa Cash Back account and earn rewards?
One of the best things about a Kasasa account is that it is always free! Open your Kasasas Cash Back account in-person. We simply require a $50 minimum deposit. It's easy to earn rewards too! In fact, you're probably already meeting the qualifications, such as using your debit card and paying your bills. Review reward qualifications here.
Why this account?
Kasasa Cash Back is more than just free checking and monthly rewards. It's designed to benefit you and your bank. Your financial institution makes money every time you swipe your debit card and saves money when you view your statements online, so why shouldn't you reap the rewards too? And what better way to be rewarded than in cash?
Sign up for Kasasa Cash Back today!
First National Bank and Trust will also offer Kasasa Saver® in partnership with these checking accounts as an automatic way to set cash aside. What happens if I don't meet the qualifications for the month? No problem, Kasasa accounts are always free, and there's no penalty fee. Qualifications and rules apply, contact First National Bank and Trust Company for details.
Questions? Visit firstnbtc.com or call us at (217) 935-2148.