Charlie Sugg is the owner of a local Clinton Lawn Care Company that currently employs six. Charlie says it is the continued support and overall friendliness of the community that has kept him in the area for over 40 years. We asked Charlie to answer a few questions about his business, the community and why he chooses to work with First National Bank and Trust Company. Read more below.
Who are the owners of the business?
Just myself, Charlie Sugg.
Tell us about yourselves.
We are a local company providing lawn care, snow removal and landscaping.
Why did you want to start a business in Clinton, Illinois?
That's where I grew up, and I wanted to serve my community.
Where is your business located?
I have a shop located on Washington Street and another shed located in the cul-de-sac on Kelli Court behind the Bank.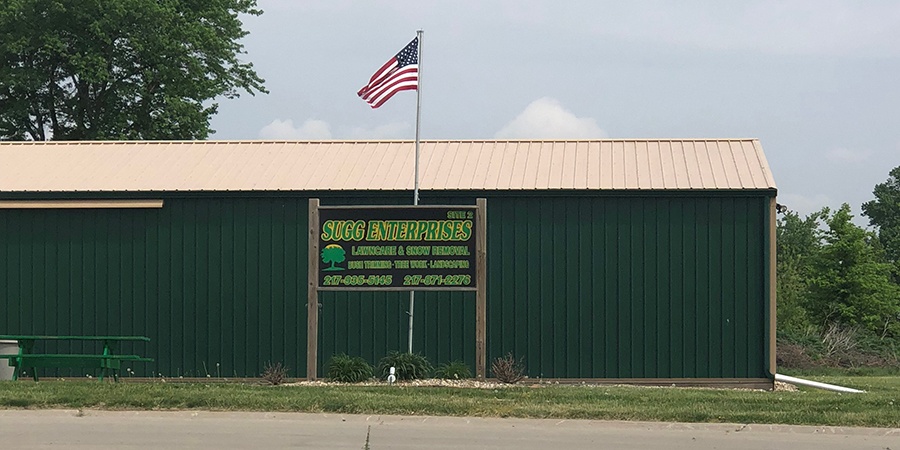 What do you offer that other businesses similar to you can't?
We are quality-oriented. We treat each yard as if it were our own!
What are your plans for the future? Where do you want your business to be in five years?
The way we have been growing, I would like to see more of my family get involved and continue the business. I hope they work to keep up the business. I started out at 17 with a push mower and hand clippers. Now I have two buildings and a large inventory of equipment.
Why do you choose to bank with First National Bank and Trust?
They help me grow! They know my needs, they know what is best for me and won't let me make bad decisions. They will always look out for my best interest! They always have time to talk to me. They put us first! If your bank doesn't believe in you, you can't grow to your full capacity.
Another reason I choose First National is because when standing in the lobby doing my business, they are call everyone by first name, no matter who they are. That is amazing!
What products/services do you use from First National Bank & Trust?
I have my checking, savings and CD accounts. Also, they have helped me with my Contract for Deed properties and my loans.
Is there anything else you would like to add?
At any time, you can come right on in and see any officer all the way up to the president. Their doors are open and you feel beyond welcomed. They are interested in me as a person, not just a business owner.
At First National Bank and Trust, we believe that a community is only as strong as its local businesses. This is why we have made it one of our top priorities to spotlight local businesses around the Clinton area. If you would like to nominate a business to be featured, please email marketing@firstnbtc.com.