A power of attorney (POA) is a legal document in which the principal (you) designate another person (called the agent or attorney-in-fact) to act on your behalf to make all decisions, in specified matters or all matters.
Deciding where and how to start with this process can seem overwhelming if you're not exactly sure why you should have one or how it works. We have outlined the top FAQ's regarding power of attorney to help get you started.
What do I want my Power of Attorney to do?
Make general personal financial decisions

Make decisions regarding only my healthcare

Make specific decisions in one aspect of my financial affairs
Why do I need this?
To execute legal documents on my behalf while traveling

In anticipation of potential mental/physical incapacity

I need a specific or limited decision made in my absence

To determine course of medical action when I am unable to
What is needed to facilitate this?
Standard General Power of Attorney - A general power of attorney ends when a person becomes mentally incapable because of sickness or injury to handle his or her own affairs
Durable General Power of Attorney - A special form of authorization that allows the attorney-in-fact to continue acting on the principal's behalf even if the principal is ill or unable to communicate
Limited Power of Attorney - A limited power of attorney can place restrictions on an attorney-in-fact's general powers

Healthcare directive or surrogate or a living will

A health care directive is a legal document in which a person specifies what actions should be taken for their health if they are no longer able to make decisions for themselves because of illness or incapacity

A living will is a document that enables a person to make his or her wishes known regarding life-prolonging treatment in advance of the time when the person is no longer able to participate actively in decisions concerning his or her medical care

A surrogate, as relates to health care, is an adult who has been properly designated to make health care decisions on behalf of another person
What are the benefits?
Allows me to designate another party to transact business on my behalf

Allows designee to transact business on my behalf even if I am incapacitated

Limits the Attorney-In-Fact to dealing only with specific issues on my behalf

Gives me the comfort to know that my healthcare decisions are in place/designated
Contact us at 217-935-2148 about any of your current retirement, estate planning or investment needs and we will be happy to answer them to keep you and your family on the path to generational prosperity.
---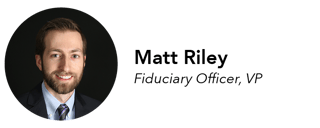 Matt Riley was named Fiduciary Officer and VP for First National Bank and Trust Company in December 2018, helping clients to meet their prosperity goals through investment and estate planning. Prior to joining FNBT, Matt had risk and compliance analysis experience at State Farm Bank in Bloomington, Ill. Matt is a proud Illinois State University Alumni, receiving his B.S. in Finance with an emphasis in Financial Planning. He has continued his education journey, earning other designations including the Chartered Financial Consultant designation. In addition to his bank service, Matt became a member of the Clinton Rotary Club in April of 2019 and became a board member for the Warner Hospital & Health Services Foundation in May of 2019.
Investment products offered by First National Bank and Trust Company are: • Not a Deposit • Not FDIC Insured • Not Insured by any Federal Government Agency • Not Guaranteed by the Bank • May Go Down in Value