Think back to when you were growing up. There was a fable around the Tortoise and the Hare, in which the Tortoise ended up winning a race between the two. Now take this metaphor and think about the way people go about investing their money. While the Hare can get some nice short-term returns, that person often thinks they can select the "winners" and "losers" when investing and will see a lot of volatility in their portfolio. Compared with the Tortoise, which is someone who will set their money aside into a slow and steady approach, taking less risk with methodical steps to build their wealth in a safer way.
If you find yourself relating to, or wanting to learn more about, the Tortoise investing style, this is where First National Bank and Trust Company can step in. We look at our investments with a risk-first mindset to limit any downside and build a long-term focused style. We created a new article to help explain this a bit more. Click here, or on the image below to download the PDF.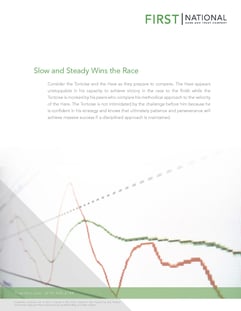 At First National Bank and Trust Company, we IGNITE PROSPERITY® by helping our clients do more with their money. Whether it's saving a little extra cash each month or accomplishing a long-term strategy, our goal is to help you transform your financial life. Call and schedule an appointment today, one of our team members would love to help you do more with your money at FNBT. For more information visit firstnbtc.com or call 217-935-2148. #igniteprosperity


---
Banking products offered by First National Bank and Trust Company, Member FDIC.
Investment products offered by First National Bank and Trust Company are: • Not a Deposit • Not FDIC Insured • Not Insured by any Federal Government Agency • Not Guaranteed by the Bank • May Go Down in Value