If you missed the explanation of the first two dimensions of of three-dimensional investment* risks, you can read about the first dimension return here and the second dimension standard deviation here.
The third dimension of portfolio analysis is very seldom used in the retail investment community, yet is commonly used by hedge funds and institutional investors; it is Conditional Value at Risk (CVaR).
According to Investopedia.com: "Conditional value at risk (CVaR) is a risk assessment technique often used to reduce the probability that a portfolio will incur large losses."
CVaR specifically indicates the average losses to be expected in the most negative scenarios, typically the worst 5 percent of all scenarios. CVaR is determined using a model that observes an investment's historical performance characteristics, then simulates thousands of one-year forecasts, and calculates the average loss in the worst five percent of all scenarios. If a model simulates 2,000 one-year return forecasts, it would average the lowest 100 scenarios as the indication of downside risk for the investment.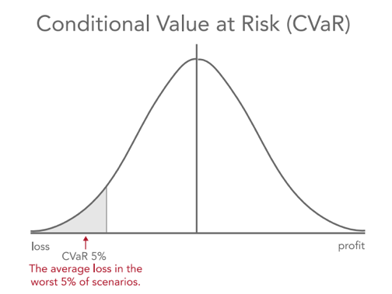 Using this type of simulator, it is also provoking to observe the maximum loss scenario. This provides investors a much more sober appraisal of an investment's risk profile. As an example, a fund run through our simulator suggested an average return of 12 percent, standard deviation of 26 percent, CVaR of 41 percent, and maximum loss of 98 percent.
The challenge of using CVaR is the requirement of needing a model to simulate performance. The technical requirements to suitably model these scenarios is probably out of reach for most doit-yourself investors and even most investment professionals. The burden to conduct the analysis is more contingent upon expertise than it is financial resources.
In conclusion, CVaR answers the question, "How much might I lose if things go bad?" The CVaR description opened by saying it is perhaps the most important measure, yet the most seldom used. By being aware of downside risk prior to a market drawdown, an investor is more able to avoid regretful outcomes, which might ultimately lead to subsequent suboptimal investment decisions, which lead to further regretful outcomes. By operating with downside risk at front of mind, an investor is less likely to make decisions out of greed or fear than if they are using return or standard deviation as their primary decision tools.
For an in-depth look on this subject, download our white paper on Three-Dimensional Investments, click below to download.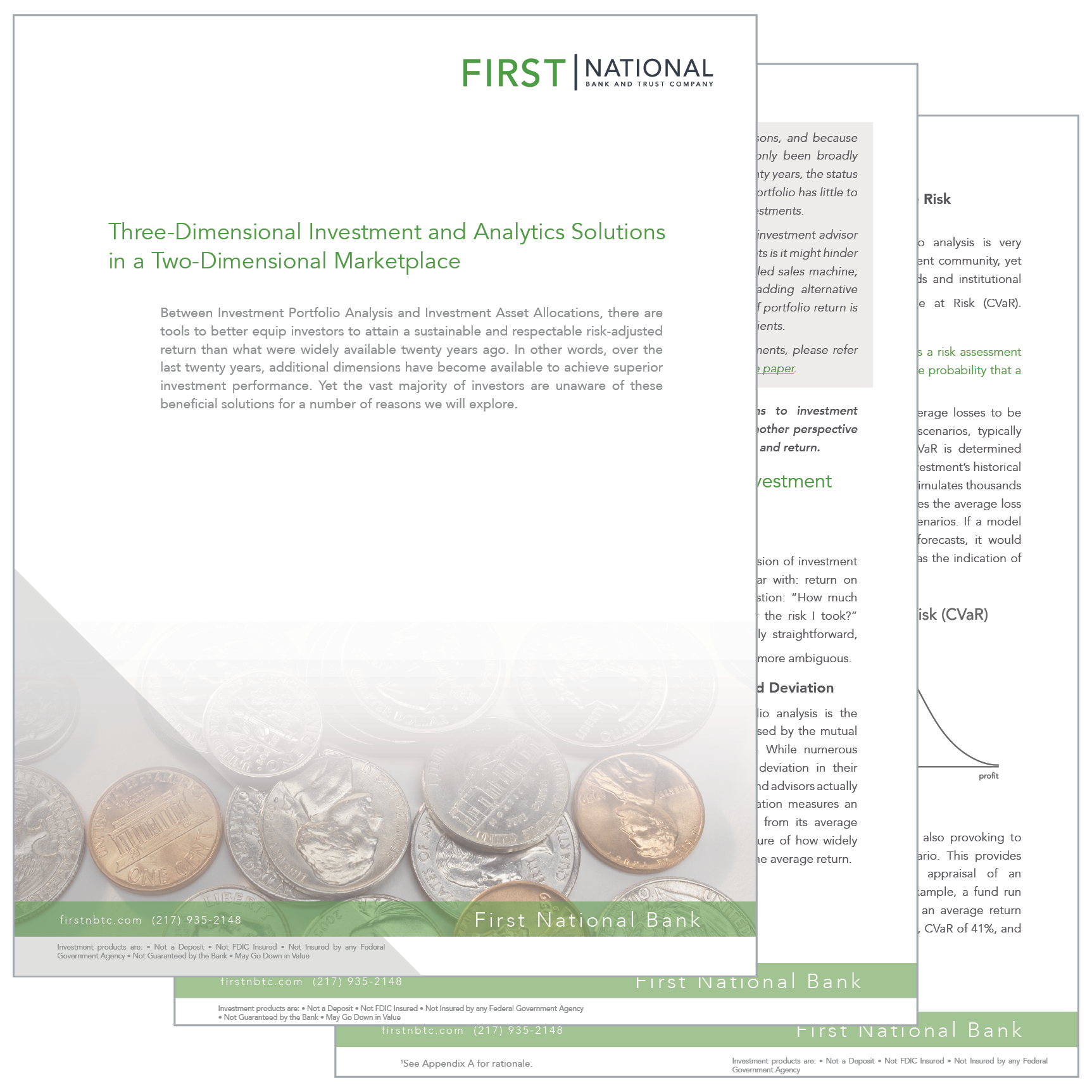 Call Matt Riley at 217-935-7456 to discuss your investment options.
*Investment products are: Not a Deposit, Not FDIC Insured, Not Insured by any Federal Government Agency, Not Guaranteed by the Bank, May Go Down in Value
Matt Riley was named Fiduciary Officer and VP for First National Bank and Trust Company in December 2018, helping clients to meet their prosperity goals through investment and estate planning. Prior to joining FNBT, Matt had risk and compliance analysis experience at State Farm Bank in Bloomington, Ill. Matt is a proud Illinois State University Alumni, receiving his B.S. in Finance with an emphasis in Financial Planning. He has continued his education journey, earning other designations including the Chartered Financial Consultant designation. In addition to his bank service, Matt became a member of the Clinton Rotary Club in April of 2019 and became a board member for the Warner Hospital & Health Services Foundation in May of 2019.
About First National Bank and Trust Co: First National Bank & Trust Company is a community bank located in Clinton, Illinois. Dedicated to community prosperity, the bank was chartered in 1872 under the name DeWitt County National Bank. The name was changed First National Bank and Trust Company in 1974, and was acquired by TS Banking Group in 2017. With $186 million in assets, First National Bank is dedicated to community reinvestment and gives 10% of its net income back to the community. For more information visit firstnbtc.com.