Prosperity Planning
Utilizing a planning professional can give you guidance on tax and estate planning while also looking at your specific income needs for retirement. Make sure to talk about your liability risks. A professional can also help establish a plan for your financial legacy and guide you on how to make your money work for you and the next generation.
Investment Risk Management
How much are you currently risking on your investments? A professional investment strategist will focus on your investment goals and plan while also considering your risk while planning for retirement and your IRA tax benefits. We suggest considering alternative investments as an option.
Fiduciary (Trust) Services
Consolidating your assets in one place helps keep things simple. Let a team of professionals help you with everything from your investments and retirement planning to estate planning. Your team should provide ongoing support for you, your loved ones and your charities. Look at solutions for spendthrift, special needs or charitable beneficiaries and set up bill pay services.
Estate/Executor Services
Find an un-biased professional to manage the disposition of assets according to a will or trust. They can manage the collection of assets, payment of debts, handle tax matters and distribution to your intended beneficiaries, while also providing investment oversight from professional money managers.
Farm Management
Farm management services are ideal for absentee landowners, experts can oversee tenant relations and negotiate crop share or cash leases providing ongoing oversight. Sign up for farm program enrollment and seek a qualified intermediary for 1031 exchange transactions.
Business/Succession Planning
Receive guidance on how to establish a succession plan and discuss how to protect your family business/farm from estate taxes or liquidation should an untimely death occur.
Contact us at 217.935.2148 about any of your current retirement or investment questions or needs, and we will be happy to answer them to keep you and your family on the path to generational prosperity.
---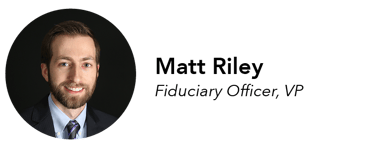 Matt Riley was named Fiduciary Officer and VP for First National Bank and Trust Company in December 2018, helping clients to meet their prosperity goals through investment and estate planning. Prior to joining FNBT, Matt had risk and compliance analysis experience at State Farm Bank in Bloomington, Ill. Matt is a proud Illinois State University Alumni, receiving his B.S. in Finance with an emphasis in Financial Planning. He has continued his education journey, earning other designations including the Chartered Financial Consultant designation. In addition to his bank service, Matt became a member of the Clinton Rotary Club in April of 2019 and became a board member for the Warner Hospital & Health Services Foundation in May of 2019.
About First National Bank and Trust Co: First National Bank & Trust Company is a community bank located in Clinton, Illinois. Dedicated to community prosperity, the bank was chartered in 1872 under the name DeWitt County National Bank. The name was changed First National Bank and Trust Company in 1974, and was acquired by TS Banking Group in 2017. With $186 million in assets, First National Bank is dedicated to community reinvestment and gives 10% of its net income back to the community. For more information visit firstnbtc.com.