The concept of Three-Dimensional Solutions pertains to two perspectives. One perspective is the three dimensions of asset allocation: stocks, bonds, and alternatives. By moving from one dimension to two, from stocks-only to stocks and bonds, an investor could retain 80 percent of their return and reduce their downside risk by over 50 percent. In financial parlance, their portfolios could become much more efficient as they earn more return for each unit of risk taken. By introducing a third dimension to asset allocation, alternative investments, the phenomenon is exaggerated further. By creating a three-dimensional investment* portfolio as opposed to one, an investor can retain 85 percent of their return and reduce risk by 67 percent.
Instead of asking "Why would a person adopt a three-dimensional approach?" the better question is "Why wouldn't they?" Why would you only observe one dimension or two, when you could observe three?
The mostly commonly used dimension of investment analysis is one everyone is familiar with: return on investment. This answers the question: "How much did I receive in compensation for the risk I took?" While determining return is usually straightforward, determining the quotient for risk is more ambiguous.
For an in-depth look on this subject, download our white paper on Three-Dimensional Investments, click here or on the graphic below to download!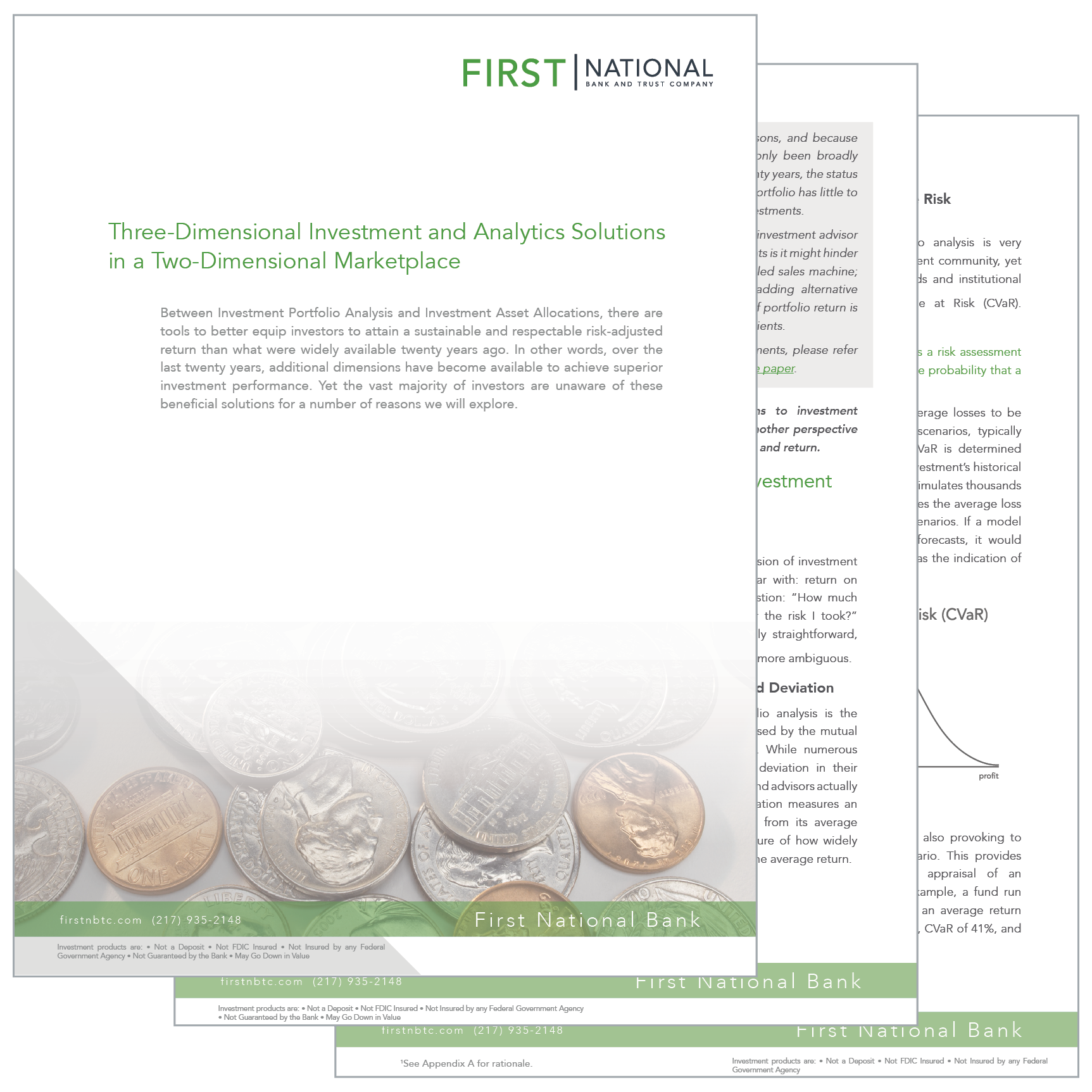 Call Matt Riley at 217-935-7456 to discuss your investment options.
*Investment products are: Not a Deposit, Not FDIC Insured, Not Insured by any Federal Government Agency, Not Guaranteed by the Bank, May Go Down in Value
Matt Riley was named Fiduciary Officer and VP for First National Bank and Trust Company in December 2018, helping clients to meet their prosperity goals through investment and estate planning. Prior to joining FNBT, Matt had risk and compliance analysis experience at State Farm Bank in Bloomington, Ill. Matt is a proud Illinois State University Alumni, receiving his B.S. in Finance with an emphasis in Financial Planning. He has continued his education journey, earning other designations including the Chartered Financial Consultant designation. In addition to his bank service, Matt became a member of the Clinton Rotary Club in April of 2019 and became a board member for the Warner Hospital & Health Services Foundation in May of 2019.
About First National Bank and Trust Co: First National Bank & Trust Company is a community bank located in Clinton, Illinois. Dedicated to community prosperity, the bank was chartered in 1872 under the name DeWitt County National Bank. The name was changed First National Bank and Trust Company in 1974, and was acquired by TS Banking Group in 2017. With $186 million in assets, First National Bank is dedicated to community reinvestment and gives 10% of its net income back to the community. For more information visit firstnbtc.com.