We've all been there.
You get out of the routine of putting together a lunch the night before. Other obligations throw off your meal prep time. A hamburger and fries sounds better than the leftovers you have in the break room fridge. Before you know it, you've eaten out for lunch more days in a row than you care to admit.
Packing a lunch versus eating out: Many of us are aware that eating out is more expensive than packing a lunch, but are we aware to what extent? I went to the grocery store to find out.
I planned three lunches and came up with the following prices:
Sandwich, chips, apple - $1.81
Pre-made Salad and apple - $2.10
Pork chop, rice and apple - $2.42
Let's guess high on this estimate and say that on average, lunch costs $2.50. I have posted the fine print on my grocery math at the bottom if you want to dive into it further.
Now that we've covered the packed lunch, let's go to eating out. I'm also going to estimate low on the average lunch price and say we spend $8 when we eat out. In addition, we also have gas and maintenance on our vehicle. Let's assume it costs 40 cents per mile and that we drive on average three miles from our place of work (six miles round trip).
All in, our lunch when we eat out adds up to $10.40 per time.
If we pack a lunch instead of eating out five days a week and 50 weeks per year we save $1,975 per year. Instead if we invest this money and compound it at 7% for 10 years, we now have over $27,000. Compound that over a 30 year working career, we now have over $186,000.
I want to be clear, I'm not advocating for never eating out, as a lot of good things can come over lunch - such as networking, business being accomplished, etc.
However, I am a big advocate for considering the long-term effects on our wealth before we make short-term decisions. Sandwich, chips, leftover pork chops, salads - they all sound like the most delicious option when considering the long-term effect.
What other things in our day should we consider that can have a similar impact? Frequency of purchasing clothes or vehicles? That after work beer? I would love to hear your feedback. E-mail me at matt.riley@firstnbtc.com.
| | | |
| --- | --- | --- |
| Turkey | $ 0.1620 | Per 2 slices |
| Ham | $ 0.0748 | per slice |
| Cheese | $ 0.0732 | per slice |
| Oatnut Bread | $ 0.3200 | per 2 slices |
| Pickles | $ 0.0381 | per 3 chips |
| Romaine Lettuce | $ 0.0442 | per sandwich |
| Variety Chips | $ 0.2768 | per bag |
| Apple | $ 0.8164 | per apple |
| Total | $ 1.8054 | |
| | | |
| Pork chop | $ 1.2400 | per 8oz pork chop |
| Rice | $ 0.3660 | per portion |
| Apple | $ 0.8164 | per apple |
| Total | $ 2.4224 | |
| | | |
| Salad | $ 1.2900 | per serving |
| Apple | $ 0.8164 | per apple |
| Total | $ 2.1064 | |
At First National Bank and Trust Company, we want to be your partner in creating a plan that secures and empowers your financial prosperity, while giving you the ability to care for your family today and for generations to come. You may not have all of the answers or know what questions need to be asked, First National Bank and Trust is here to help. Call us at 217-235-2148 to schedule your prosperity planning meeting.


About First National Bank and Trust Co: First National Bank & Trust Company is a community bank located in Clinton, Illinois. Dedicated to community prosperity, the bank was chartered in 1872 under the name DeWitt County National Bank. The name was changed to First National Bank and Trust Company in 1974, and was acquired by TS Banking Group in 2017. With $170 million in assets, First National Bank is dedicated to community reinvestment and gives 10% of its net income back to the community. For more information visit firstnbtc.com.
---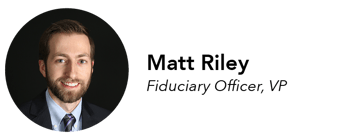 Matt Riley was named Fiduciary Officer, VP, for First National Bank and Trust Company in January 2019. Riley has four years of experience in risk analysis, serving most recently as a Risk and Compliance Analyst at State Farm Bank in Bloomington, Ill. As a Fiduciary Officer, Riley will manage First National Bank's trust portfolio while helping clients find new ways to meet their prosperity goals. He will focus on growing the portfolio and working to establish relationships with referral sources.
---