Seventeen students learned about business and then practiced operating one during the second Entrepreneur Camp hosted by First National Bank and Trust Company, the Clinton YMCA, The Vault and DeWitt County 4-H.
The students, ranging from those soon-to-enter sixth grade through ninth grade, spent a week visiting Clinton-area businesses to learn about operations, while also breaking into groups, each forming a business that manufactures and distributes electric trikes.
"It's a great experience for them to see real life businesses and also learn what it takes to run a business," said Financial Literacy Coordinator Connie Unruh with First National Bank and Trust.
Much of the camp was hosted at The Vault on Mr. Lincoln's Square in Clinton. The facility is a place for kids and teens to experience social and academic growth.
Brad Christensen of the Illinois State University Center for Mathematics, Science and Technology generously loaned the electric trikes project to the camp. Teams of students were given a budget of $600 to spend on parts to construct their trike, and they "earned" an additional $20 per student daily. Unruh noted a twist – "It costs more than $600 to build the vehicle."
"If they ran into trouble they could wait until the next day for the $20 per student, or get a loan with interest," Unruh said. "They figured things out – to save money, they shared materials. It was real-time learning."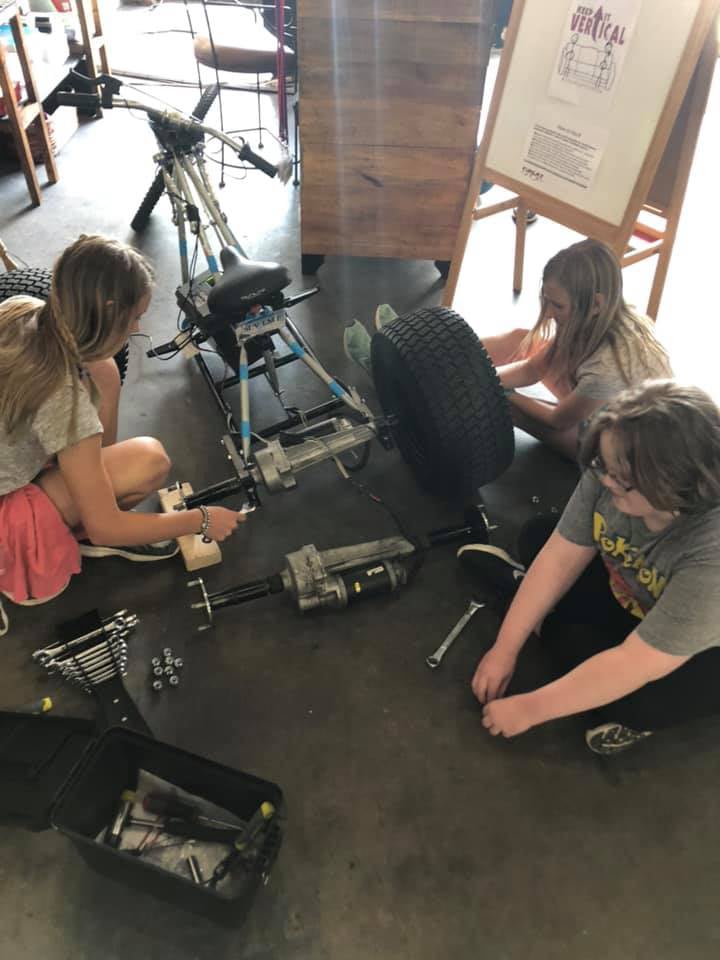 After completing their trike, the companies pitched to investors – Brian Ash of First National Bank and Trust, Michele Evans of the Illinois Prairie Community Foundation and Sarah Embry, intern at The Vault – for additional capital for their company.
"The groups asked the investors for a loan or money in exchange for an equity stake in their business," Unruh said.
And thanks to a grant from the Illinois Prairie Community Foundation Youth Engaged in Philanthropy Program, the camp was able to purchase iPads for students to use to create a video about their business.
Campers visited the following businesses:
Clinton Journal – Unruh said they focused on local news, how vital it is to have a news outlet in town and other topics.
Dr. Stephanie Cluver – She discussed being a chiropractor and owning your own business.
Ace Hardware – Students learned about franchises, volume buying for inventory and how things have changed over the years for advertising and business structure. Business owner Brad Barton discussed the minimum wage increase and how to keep a good employee with campers as well.
Coziahr Harley Davidson – Students learned about the dealership, and how the different departments work together to customize bikes to sell in their store. They also learned about potential career opportunities through Harley Davidson and about the specialized training their mechanics receive.
Cinco de Mayo – Owner Delfino Naxi discussed his journey to owning two successful restaurants in Clinton, and that one of the keys to success is treating your customers and employees well.
Timberview Alpaca Farm – Owner Elizabeth Lord introduced campers to her really soft and gentle alpacas. Students learned how the farm was converted in to a diversified business that breeds alpacas, sells their fur, creates products from alpaca yarn, offers alpaca yoga and even an Air BNB.
Central Illinois Ag – Students met with Tim Reeser who gave them a tour and talked about the large farm equipment they sell and repair, the input costs for a farmer and the types of jobs you can have in the agriculture world.
Jason Frantz, State Farm Insurance – Students learned why people and businesses need insurance. They also played a game of bingo of different risk scenarios, learning which insurance covers each type of peril.
Unruh said the camp was a success. She thanked The Vault, volunteers that assisted, the businesses that participated and countless others.
"The students learned a lot. Learning that to build something to sell you have to spend money. That you need a place to build and sell your product. That their time is worth something and you must work as a team to get things accomplished," she said. "It was a great week."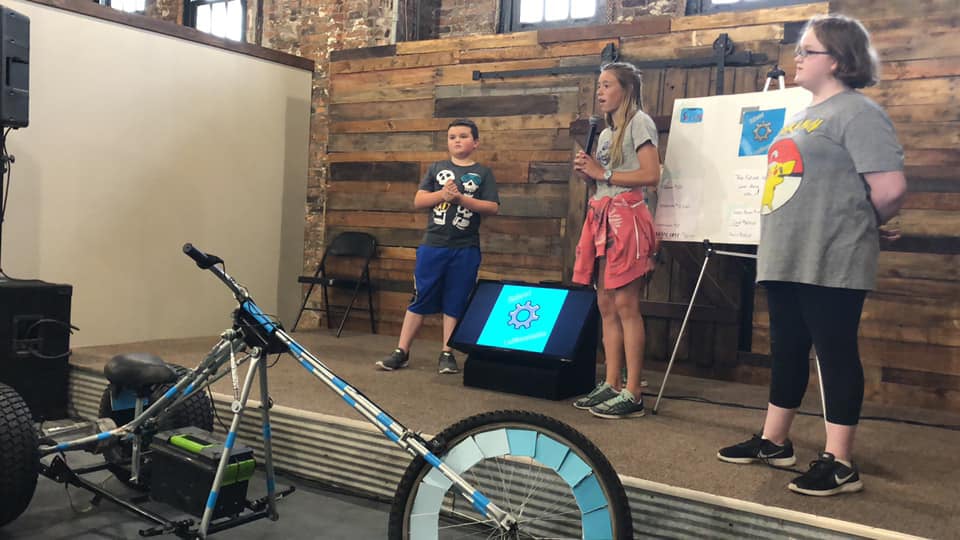 About First National Bank and Trust Co: First National Bank & Trust Company is a community bank located in Clinton, Illinois. Dedicated to community prosperity, the bank was chartered in 1872 under the name DeWitt County National Bank. The name was changed First National Bank and Trust Company in 1974, and was acquired by TS Banking Group in 2017. With $186 million in assets, First National Bank is dedicated to community reinvestment and gives 10% of its net income back to the community. For more information visit firstnbtc.com.