In tumultuous financial markets, do you find yourself staying awake at night worrying about your retirement nest egg or the legacy you plan to leave?
It's in times like these that our portfolios shine. We build our portfolios focused on risk first, return second.
What does this mean to our clients? By focusing on risk, our investment team is building an investment portfolio* that gives our clients not only true diversification in other asset classes but focuses on down side protection to create a long term generational risk plan.
Are you exposed to more risk than you need to be in your portfolio?
In today's financial climate, we are working to provide clients with an understanding of the hidden risks inside their financial plan. By focusing on these risks, clients can enjoy a peace of mind that helps them sleep better during the financial storms.
You have worked hard to be financially stable. We want to ensure you are prepared for the unexpected and uncontrollable forces that can deteriorate your generational wealth.
So the ultimate question is - If you don't have to take on drastically more risk to get a better return, why would you?
If this sounds familiar, download our new eBook titled "Managing Risk for Your Greater Reward – Ending the Investment Roller-coaster" today, by clicking here or the image below.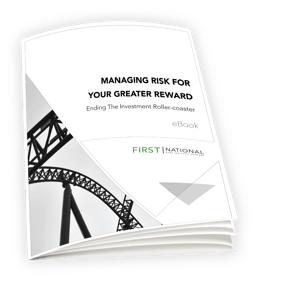 *Investment products are: Not a Deposit, Not FDIC Insured, Not Insured by any Federal Government Agency, Not Guaranteed by the Bank, May Go Down in Value
About First National Bank and Trust Co: First National Bank & Trust Company is a community bank located in Clinton, Illinois. Dedicated to community prosperity, the bank was chartered in 1872 under the name DeWitt County National Bank. The name was changed First National Bank and Trust Company in 1974, and was acquired by TS Banking Group in 2017. With $170 million in assets, First National Bank is dedicated to community reinvestment and gives 10% of its net income back to the community. For more information visit firstnbtc.com.

Matt Riley was named Fiduciary Officer, VP, for First National Bank and Trust Company in January 2019. Riley has four years of experience in risk analysis, serving most recently as a Risk and Compliance Analyst at State Farm Bank in Bloomington, Ill. As a Fiduciary Officer, Riley will manage First National Bank's trust portfolio while helping clients find new ways to meet their prosperity goals. He will focus on growing the portfolio and working to establish relationships with referral sources.