Clinton, IL, August 4, 2021 - First National Bank and Trust Company recently offered a Culinary Arts Career Camp in partnership with the Vault Community Center. Middle school students learned cooking skills, food industry career options and how to run a food business.
The camp was hosted at the Vault Community Center and instruction was led by Connie Unruh, First National Bank and Trust Company Financial Literacy Coordinator, trained chef, Pastor Paul Stroup of Clinton Presbyterian Church, as well as local, talented bakers Joetta Wiesemann, Lisa Lueras and Susan Klein.
Students learned about business cash flow tactics, including how to price their menu in order to make a profit, the importance of employee training, food safety and how to deliver excellent client service.
"First National Bank and Trust Company is committed to teaching financial literacy to the community including students and adults. Regardless of age, we want everyone to be equipped with the knowledge on how to manage their personal finances," said Connie Unruh.
The week wrapped up with a student bake sale and lemonade stand at the Vault's Summer Saturday in July. The sale was a success netting over $800 and all proceeds were donated to the Vault for future programming.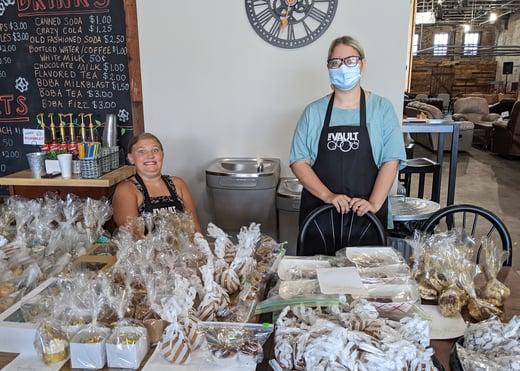 "There's something for everyone in the culinary world. Our culinary campers showed enthusiasm, creativity, discipline and a passion for all things culinary," said Pastor Paul Stroup. "It was fun to see and hear their excitement and creativity come to life as they learned about some of the basics in the culinary field. I hope this cooking and baking camp has sparked a journey of lifelong learning and an unquenchable thirst for all things culinary."
Lisa Lueras, co-owner and baker at Magill Restoration Center added, "Participating in The Vault summer camp experience was a true delight! The students were eager, energetic and shared my love for chocolate. It was an honor to see them learning, and I look forward to seeing future camps like these."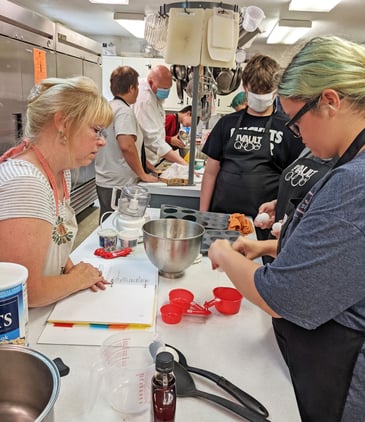 For more information about other financial literacy activities and future career camps contact Connie Unruh at connie.unruh@firstnbtc.com or 217-935-7464.
About First National Bank and Trust Company: First National Bank & Trust Company is a community bank located in Clinton, Illinois. Dedicated to community prosperity, the bank was chartered in 1872 under the name DeWitt County National Bank. The name was changed to First National Bank and Trust Company in 1974, and was acquired by TS Banking Group in 2017. With $200 million in assets, First National Bank is dedicated to community reinvestment and gives 10% of its net income back to the community. For more information visit firstnbtc.com.