We are all acutely aware of the seriousness of the Coronavirus, or Covid-19. I have to admit that I was a naysayer early on, not believing that a virus could spread so quickly all over the world and with such serious consequences. But, everyday our government leaders and smart doctors emphasize the behaviors that we all must practice to slow the spread of the disease and thereby (hopefully) reduce the number of deaths.
There are other lessons to be learned from this outbreak. We are hearing stories of family members and loved ones not able to be at the bedside of a patient. If you found yourself in that situation, do you know the wishes of your loved ones? Do you have the proper authority to make medical decisions? Are you able to take over someone's finances?
These questions are easily answered "Yes" if you have a Durable Power of Attorney, a Power of Attorney for Healthcare and a Living Will or Advanced Directive. You, and each of your adult loved ones (including adult children) should have executed these documents ideally drafted by legal counsel.
Durable Power of Attorney
The Durable Power of Attorney allows a person (or persons if you name more than one) to make financial decisions on your behalf if you are unwilling or unable to make those decisions. This might include having access to your bank accounts, investments, real estate and other business interests that you have. Because of the scope of the unlimited authority, it's important to name someone that you trust, as these powers are without supervision.
Power of Attorney
A Power of Attorney for Healthcare names a person (or persons) to have the authority to make medical decisions for you. This could mean authorizing surgery or any other medical treatment. An individual named in this document has the authority to speak with your medical team. Often times privacy laws prevent medical professionals from even speaking with others about your health.
Living Will or Advanced Directive
A Living Will or Advanced Directive is really just an expression of your wishes as to the extent of medical intervention, most commonly at the end of life. This document relieves the burden on your family to make that difficult decision.
Now is a great time to go to your attorney and get these documents prepared for you and your loved ones. If you would like to visit with someone from the First National Bank and Trust trust department in preparation for a meeting with an attorney, give us a call. We would love to talk through the issues with you.
Contact us at 217-935-2148 about any of your current retirement, estate planning or investment needs and we will be happy to answer them to keep you and your family on the path to generational prosperity.
---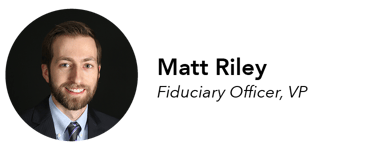 Matt Riley was named Fiduciary Officer and VP for First National Bank and Trust Company in December 2018, helping clients to meet their prosperity goals through investment and estate planning. Prior to joining FNBT, Matt had risk and compliance analysis experience at State Farm Bank in Bloomington, Ill. Matt is a proud Illinois State University Alumni, receiving his B.S. in Finance with an emphasis in Financial Planning. He has continued his education journey, earning other designations including the Chartered Financial Consultant designation. In addition to his bank service, Matt became a member of the Clinton Rotary Club in April of 2019 and became a board member for the Warner Hospital & Health Services Foundation in May of 2019.
About First National Bank and Trust Co: First National Bank & Trust Company is a community bank located in Clinton, Illinois. Dedicated to community prosperity, the bank was chartered in 1872 under the name DeWitt County National Bank. The name was changed First National Bank and Trust Company in 1974, and was acquired by TS Banking Group in 2017. With $186 million in assets, First National Bank is dedicated to community reinvestment and gives 10% of its net income back to the community. For more information visit firstnbtc.com.