When selecting a physician, plumber, or teacher, you already know that they are formally educated, examined, and licensed, often with a continuing education requirement; however, when selecting an executor or trustee for a will or trust, we often don't think about the lack of training, education, or licensing. The only requirement to write that name as executor/trustee is that they are of legal age and possess competence. It is extremely hard to find an individual with expertise in taxes, investments, legal interpretations, financial responsibility, and more all while dealing with their own emotions and the needs of various beneficiaries. A carefully prepared trust document can be easily endangered by a trustee who takes the wrong direction or does not care for the needs of each beneficiary. Trustees have a legal responsibility to serve each beneficiary prudently.
Not surprising, the most common choice to be an executor or trustee is a family member, often a spouse. Not only will the family member have stress over working on the estate, but they will be asked to serve during one of the most stressful and emotions times of their life. A family member may not hire the correct estate specialists, be less impartial, lack professional experience, and won't always be available for beneficiaries if they have other priorities such as a job.
While there are some advantages to having a family member as executor/trustee, such as possibly lower costs, closer to the family beliefs, etc., there seem to be more advantages of having a corporate trustee. A corporate executor or trustee is removed from family pressure, impartial, knowledgeable, trained and experienced, always available, and permanent. The corporate trustee will act as a fiduciary who you can entrust to manage family affairs and assets for both today and tomorrow. A corporate executor/trustee can assist with:
Impartiality and Family Harmony
A corporate fiduciary must treat all beneficiaries in an objective manner versus a family member with personal biases. Family members may experience being pressured to favor one over another leading to potential family disharmony brought on by conflicts of interest. A corporate fiduciary can be in the role of arbitrator, mediator, or just plain old "bad guy". This allows family members to point to an external entity versus pointing a finger at each other. The corporate fiduciary is in a better position to determine what is equitable, which is often times different than what is equal.
Regulatory Oversight
A corporate fiduciary is regulated by examiners, subject to audits, required to maintain insurance an bonding against errors and omissions, fraud and liability; and must operate under a fiduciary code versus a family member having no third party oversight over their actions. An anonymous writer once said "There is no duty known to the law greater than the duty which a trustee owes to a beneficiary of a trust."
Experience
Career fiduciary trust experts know the specialized laws of fiduciary and trust management, and how to manage assets for others as a fiduciary versus the inexperienced family member who may inadvertently violate laws or expose family money to unknown risks.
Continuity
A corporate fiduciary does not get sick, die, or become distracted by personal activities; thus provides continuing expertise, access to a professional networks, and ongoing accounting and record keeping.
First National Bank and Trust is a corporate fiduciary, and has always worked in the best interest of our clients to achieve their financial goals. We embrace our fiduciary responsibility to clients and work hard to preserve and grow your family's prosperity. Give us a call at 217-935-2148 to discuss how a corporate fiduciary may benefit your will, trust, and family.
---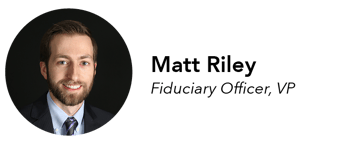 Matt Riley was named Fiduciary Officer and VP for First National Bank and Trust Company in December 2018, helping clients to meet their prosperity goals through investment and estate planning. Prior to joining FNBT, Matt had risk and compliance analysis experience at State Farm Bank in Bloomington, Ill. Matt is a proud Illinois State University Alumni, receiving his B.S. in Finance with an emphasis in Financial Planning. He has continued his education journey, earning other designations including the Chartered Financial Consultant designation. In addition to his bank service, Matt became a member of the Clinton Rotary Club in April of 2019 and became a board member for the Warner Hospital & Health Services Foundation in May of 2019.
About First National Bank and Trust Co: First National Bank & Trust Company is a community bank located in Clinton, Illinois. Dedicated to community prosperity, the bank was chartered in 1872 under the name DeWitt County National Bank. The name was changed First National Bank and Trust Company in 1974, and was acquired by TS Banking Group in 2017. With $186 million in assets, First National Bank is dedicated to community reinvestment and gives 10% of its net income back to the community. For more information visit firstnbtc.com.