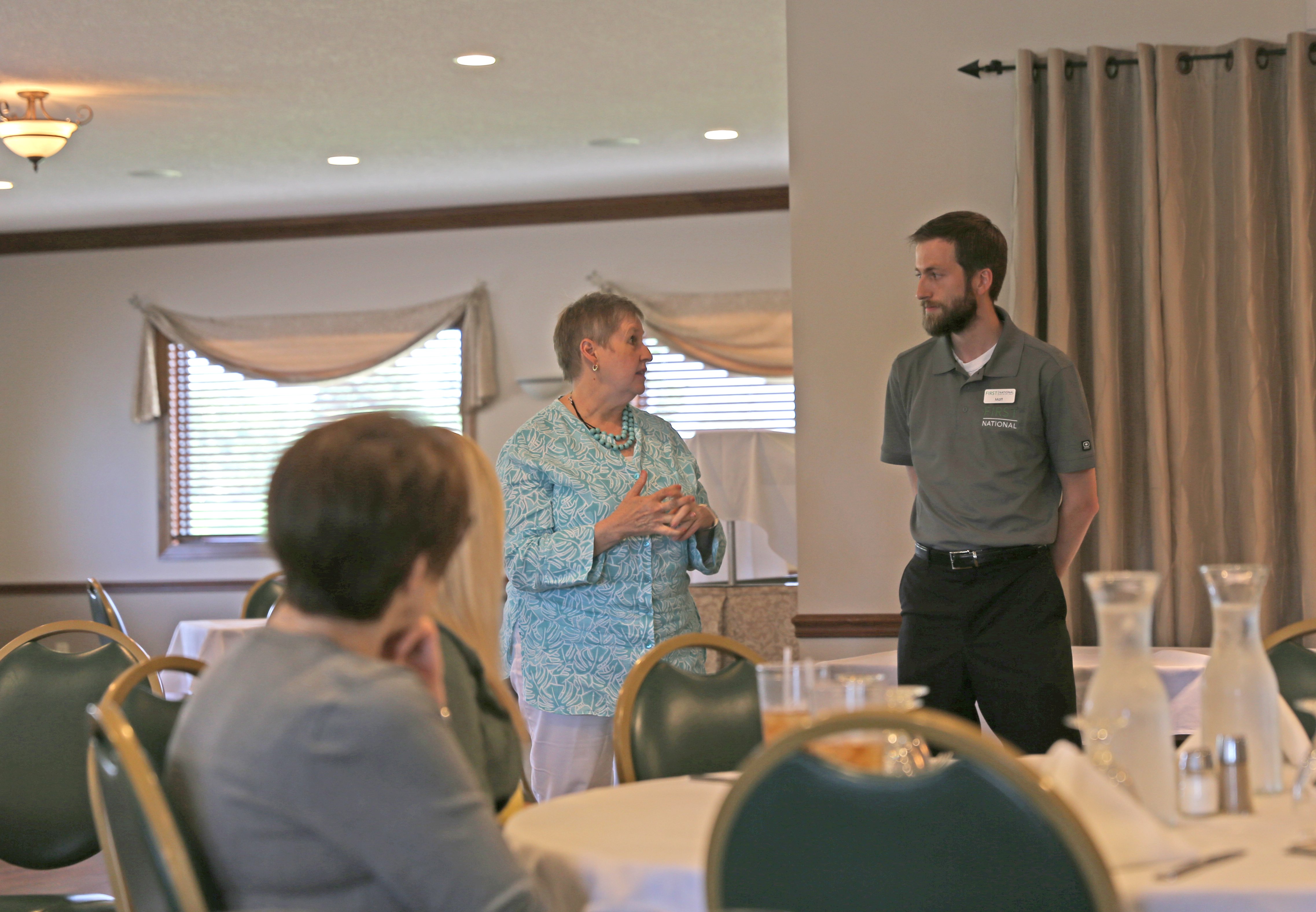 For farmers and business owners, thinking about the future and the line of succession can be daunting.
During a recent farm and business succession planning event hosted by First National Bank and Trust Company in Clinton, Illinois, speaker Mary Jewell talked about the need to develop a plan.
Jewell told the crowd at the Clinton Country Club about the need to set goals – including planning for retirement and who will take over when the owner passes away.
An important step is determining what "ownership type" is needed to meet those goals. Ownership types include sole, join, LLC, corporate and trust.
"Communication with family and employees is important," Jewell said.
Jewell discussed the variety of timing mechanisms for paying out inheritance and ownership. Choices include an option to purchase, stock ownership, an installment sale and keyman life insurance.
Jewell also discussed using life insurance to equalize distribution to children.
"Life insurance could provide cash to distribute to non-farm heirs instead of farmland or machinery that could or would go to the child that was involved in the farming operation," she said. "Or the family business. Some people set up life insurance trusts to own the life insurance policy or policies and be the beneficiary or beneficiaries of the proceeds. This was done a lot in the days of the lower estate tax exemption to keep assets out of a person's estate. But because of the $11.4 million Federal estate tax exemption per individual, this technique would only be useful for extremely high net worth individuals."
Josh Guttau, CEO of the bank's holding company, talked about the succession of ownership of their Iowa bank from Guttau's parents to his sister and he. He said sitting down with his parents and devising a plan helped the family avoid estate tax and other penalties that could've forced the second generation to sell the bank to cover costs.
He said having a plan in place and discussing matters in advance helps the second generation avoid penalties and taxes that could threaten the family farm or business.
Local fiduciary officer Matt Riley with First National Bank & Trust invited those interested to reach out to him directly at 217-935-2148 for more information on estate and trust planning.
Investment products are: • Not a Deposit • Not FDIC Insured • Not Insured by any Federal Government Agency • Not Guaranteed by the Bank • May Go Down in Value.
About First National Bank and Trust Co: First National Bank & Trust Company is a community bank located in Clinton, Illinois. Dedicated to community prosperity, the bank was chartered in 1872 under the name DeWitt County National Bank. The name was changed First National Bank and Trust Company in 1974, and was acquired by TS Banking Group in 2017. With $186 million in assets, First National Bank is dedicated to community reinvestment and gives 10% of its net income back to the community. For more information visit firstnbtc.com.