It can be difficult for a person to understand what will happen to their assets if they do not have a will; however, it can be even more difficult to comprehend the digital assets that live in the internet and if they can be accessed by anyone other than you if needed. We set up estate plans for our money and keepsakes, often holding items of value in bank vaults or safe deposit boxes, but what about our digital assets and how they are stored? According to a McAfee survey, digital assets globally are valued at around $37,000, while in the U.S. we value our digital estates at around $55,000. For this conversation I will define a digital asset as any property that is held only online, including social media accounts/posts, photos, music, email accounts, etc. These all play a part in your legacy, but will your executor know where to look in order for your digital life to be passed on?
An Intel Security survey showed the average person has twenty-seven discrete online logins. That service agreement that you clicked through when you set up each of those accounts determined the ownership rights to all digital assets you acquired or stored within those accounts. Some companies have realized the flaw in a lack-of-planning mentality and have taken steps to help a person's digital assets be managed. Facebook now allows for the selection of a "legacy contact" who can manage a memorialized account with limited controls. Google on the other hand allows an owner to utilize the "Inactive Account Manager" option and define control over their Google account and related files (Gmail, Google Drive, YouTube videos, etc.) when a situation arises that prevents them from accessing or using their Google account.
While some companies have taken steps forward in assisting the digital estate planning world, not everyone has grasped the concept of protecting digital assets. Failure to plan ahead may prevent loved ones from recovering family photos or settling bills. It could also leave an estate vulnerable to post-mortem identity theft. Below are three steps you should take to help prepare and plan, similar to having a will or other legal document:
Discover
Preparing a comprehensive inventory of your digital assets, including e-mail, social networks, photo-sharing sites, shopping sites such as Amazon, online bill-payment accounts, credit card accounts, etc., with instructions on how to access each is critical to ensuring your assets are properly maintained. Each account should be listed with log-in credentials, password information, and answers to any security questions. Put this information in your safe deposit box or in your attorney's vault. Keeping this list simple is important as it needs to be updated or reviewed on a regular basis, typically when a will or healthcare directive is reviewed.
Authorize
Finding the digital assets is only part of the process, Federal laws present another obstacle. Many federal privacy laws prohibit access to accounts without clear authorization. If you use your late father's password to log on to his account, you may violate not only the provider's terms of service but also the federal Computer Fraud and Abuse Act. Another Federal privacy law, the Stored Communications Act, limits providers' ability to share deceased users' account contents with relatives. While legislation is pending in many jurisdictions to allow your executors and personal representatives to access your online information and accounts, it is best to affirmatively authorize access to your accounts. Those creating a power of attorney document should also include specific language authorizing their agents to deal with their digital assets. Consider signing a statement, which can be drafted by an estate-planning lawyer, authorizing the companies that hold your online information to disclose that information to your executor or other representative. The authorization may be included in your will. This should allow your executor to request a copy of the contents of your online accounts, rather than trying to access the account directly and possibly violating the terms of service or federal law.
Communicate
Be sure to share your plans for your digital assets (and the existence of your inventory) with your family and your advisors. If you can, try to run through an audit to understand where you may encounter problems or where you need to provide additional guidance to ensure your wishes are carried out. Your family won't know your priorities and goals if they aren't shared with them. Many families procrastinate when it comes to estate planning. Some consider it to be an unpleasant or difficult subject to talk about. Others simply don't know where to start. The various reasons for putting off estate planning don't really matter. What does matter is that you decide to make it a priority and take steps to get your estate plan in place, both physically and digitally.
First National Bank and Trust can help you during the estate planning process. Consider us to be a trusted resource for you and your family. The peace of mind that comes from having your estate plan in place is priceless.
---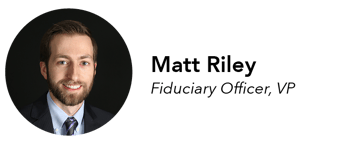 Matt Riley was named Fiduciary Officer and VP for First National Bank and Trust Company in December 2018, helping clients to meet their prosperity goals through investment and estate planning. Prior to joining FNBT, Matt had risk and compliance analysis experience at State Farm Bank in Bloomington, Ill. Matt is a proud Illinois State University Alumni, receiving his B.S. in Finance with an emphasis in Financial Planning. He has continued his education journey, earning other designations including the Chartered Financial Consultant designation. In addition to his bank service, Matt became a member of the Clinton Rotary Club in April of 2019 and became a board member for the Warner Hospital & Health Services Foundation in May of 2019.
About First National Bank and Trust Co: First National Bank & Trust Company is a community bank located in Clinton, Illinois. Dedicated to community prosperity, the bank was chartered in 1872 under the name DeWitt County National Bank. The name was changed First National Bank and Trust Company in 1974, and was acquired by TS Banking Group in 2017. With $186 million in assets, First National Bank is dedicated to community reinvestment and gives 10% of its net income back to the community. For more information visit firstnbtc.com.